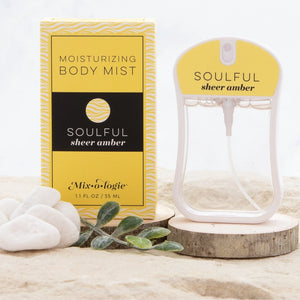 Soulful Moisturizing Body Mist
Engaging to the core, with the enveloping sensuality of amber, musk, an alluring bouquet of wild freesia, peach rose, and white jasmine. Feel-good patchouli and vanilla create an understated, yet alluring inner journey.
Alcohol-Free, Paraben-Free, Phthalate-Free, Cruelty-Free
Made in United States
What customers say:
~ "I've always been a fan of amber fragrances, and this one is the best ever (for my body chemistry."
~ "If my favorite day had a scent, it would be Soulful."
~ "I am so glad I found Mixologie! This is the only perfume I can wear. Everything else gives me a headache. My husband loves it too! It's not overpowering like some store-bought perfumes."
~"light and bright" ~ "OMG, this lasts all day on my skin!"
---
We Also Recommend