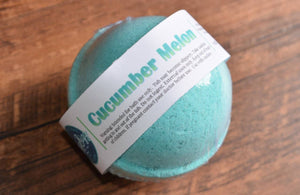 Cucumber Melon Bath Bomb
It's time to step in the tub and relax. This bath bomb is sure to get the job done. A lovely, provocative scent blended with watermelon, cantaloupe, honeydew and ripe fresh green cucumbers.
Our 6oz bath bombs are roughly the size of a tennis ball.
Ingredients: Sodium bicarbonate (baking soda), citric acid, magnesium sulfate (epsom salt), corn starch, coconut oil, shea butter, fragrance, water, and mica. Size - 6oz.

Proudly Made here in the USA!